Special Guests: Andrés Taboada, Joe Turman, Patricio Amerena, Michelle Morley, Adriana Taboada, Aida Kohn, Alejandro de la Torre; There will be a reception on after the screening on November 9th at CPH and after the screening on November 10. Both FREE with ticket to the film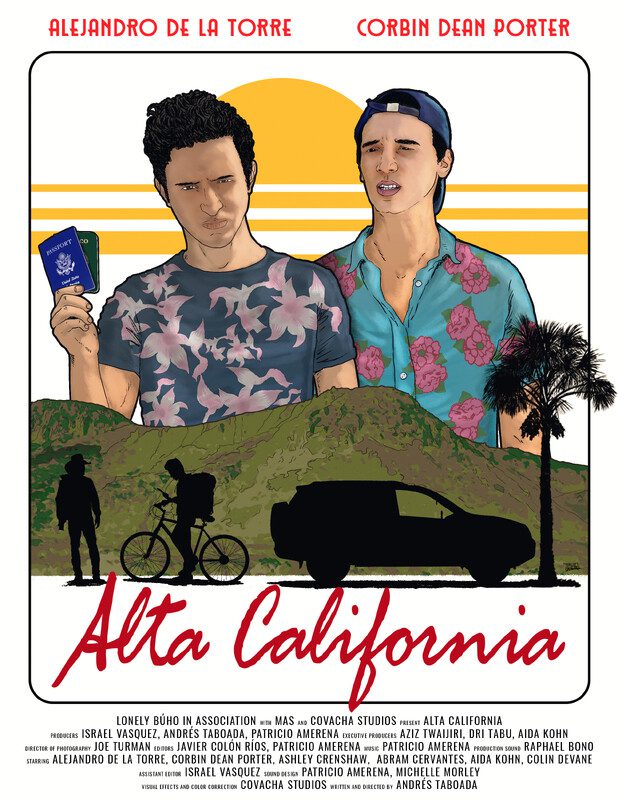 Inspired by a spring-break trip south of the border, a young Mexican immigrant looks for a better life in the one place he knows he will find it: back in México.
What begins as a typical Spring Break flick, subtlety shifts to an inventive comedy with great pathos as to what is happening in the world.  But don't let me bring your head down, this is a fun, surprising movie with great comedy, and yes, wonderful humanity.  The two buddies, Carlos (Alejandro de la Torre) and Austin (Corbin Dean Porter) give the persona of typical college kids on break, but through it all we see the love, respect and concern for each other's well-being.  Director/writer Andres Taboada deserves the credit for making this small movie into something much bigger than itself.
Director: Andrés Taboada was born in Perú, where he resided until a scholarship allowed him to finish high school in Germany. After receiving a Bachelor's degree in Biology in California, and working as a teacher in Southeast Asia, he eventually came back to the States, and Miami is where he performed stand-up comedy for the very first time while pursuing a Master's in Education. After grad school, he attended the UCLA Summer Film Institute, where he met some of the people with whom he collaborates to this day. Andrés now lives in Los Angeles, where he won the Funny and Foreign-Born Showcase at the Glendale Comedy Festival. He also won the award for Best Comedic Actor at Miami WebFest and was a finalist at the World Series of Comedy. He has since turned his focus towards his first feature film, a bilingual dramedy called ALTA CALIFORNIA, which he wrote, produced, and directed.
Special Guests: Andrés Taboada, Joe Turman, Patricio Amerena, Michelle Morley, Adriana Taboada, Aida Kohn, Alejandro de la Torre
DIRECTOR(S):
Andrés Taboada
SCREENWRITER(S):
Andrés Taboada
PRODUCER(S):
Israel Vasquez, Andreas Taboada, Patricio Amerena
CAST:
Alejandro de la Torre, Corbin Dean Porter, Abram Cervantes, Aida Kohn, Andres Taboada, Colin Devane, Ashley Crenshaw