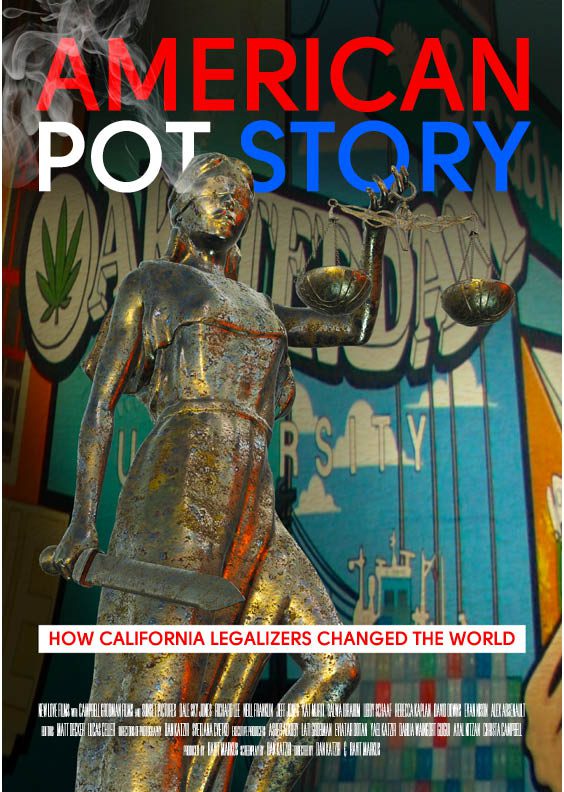 AMERICAN POT STORY: Oaksterdam
A reception follows the screening on November 12th at Savor Cinema. FREE with ticket.
WINNER OF THE AUDIENCE AWARD AT SLAMDANCE 2023,  AMERICAN POT STORY: Oaksterdam is a documentary about how change transpires in America. The account of "a small group of concerned committed citizens" (to quote Margaret Mead) who took a huge risk in order to bring about a massive shift in public perception. It all happened at Oaksterdam University in Oakland, California – a magical place where cannabis history was made, falling right in place with Oakland's rich history of civil resistance. Today when we see celebrities and corporations get into the cannabis business it's easy to forget how many millions of people unjustly suffered and still suffer because of the American drug policy. Our documentary is not just an important historical chronicle of a campaign that brought into the mainstream a taboo topic, it's also an inspiring reminder of how democracy can work when people come together in an effort to fulfill our pledge to liberty and justice for all.
Directors: Katzir's docs won awards globally and a nomination for the Israeli Academy Award. His films were shown in film fests and aired on stations worldwide. His film Out for Love… Be Back Shortly became the most important film about when Israeli Prime-Minister Yitzhak Rabin tried to move the region from war to peace and was assassinated in the process. Katzir's film Yiddish Theater: A Love Story got raves in the NY TIMES and the LA TIMES. Dan is a graduate of the MFA Directing Program at AFI and the Film and TV Department, Tel Aviv University. He served in the Israeli army in the paratroopers (Red Beret) unit and finished his army service in the rank of Lieutenant.
Marcus' docs include Yiddish Theater: A Love Story which she wrote and produced. It was voted one of the top 10 docs of 2007. Ravit co-produced Jewish Film Festivals' darling Rock in the Red Zone; and produced the Channel 4 UK documentary Porn Shutdown in 2005 which aired world-wide. Ravit is a graduate of the Film and TV Dept, Tel Aviv University. Her final thesis film was bought and aired on the Israeli Cinema channel. She served in the video unit of the Education Corps. After the army she became a producer for the modern dance company Liat Dror and Nir Ben Gal. She was introduced to the choreographers by her film teacher, director Eitan Fox. Ravit's currently working on a doc about Israel's champion of wheelchair badminton, Nina Gorodetsky, and her journey to the Paralympics.
Special Guests: Ravit Marcus & Dan Katzir
Sponsored by:


DIRECTOR(S):
Dan Katzir and Ravit Markus
SCREENWRITER(S):
Dan Katzir
PRODUCER(S):
Ravit Markus