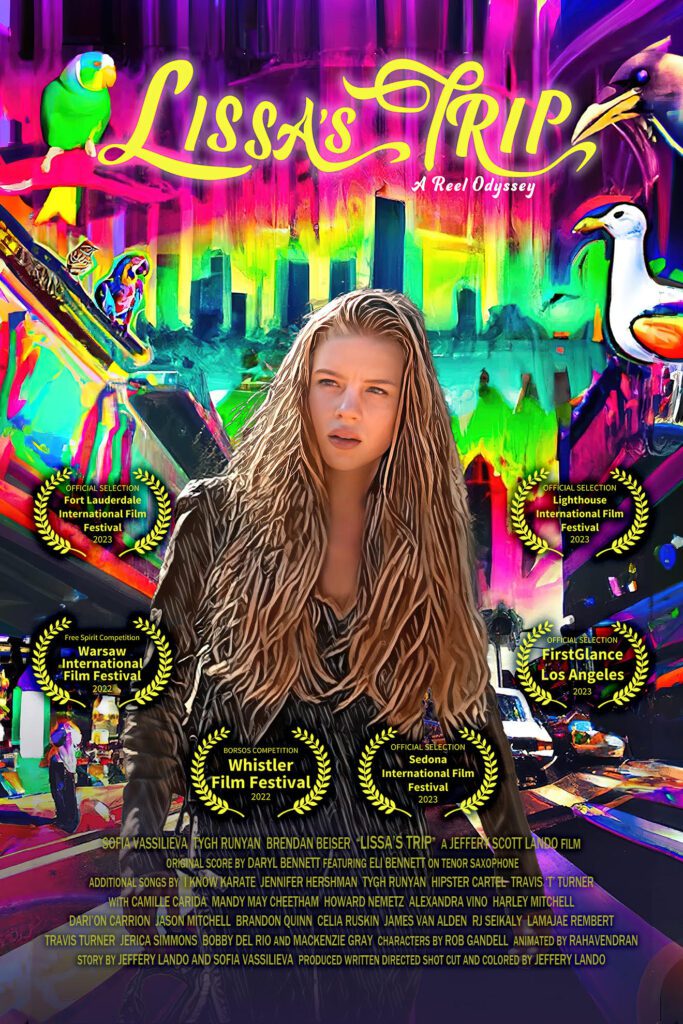 LISSA'S TRIP takes you on a wild ride through the streets of Los Angeles with an actress who accidentally took a lot of acid before a crucial audition.
Loosely inspired by Homer's Odyssey, the film follows Lissa as she encounters bizarre characters and situations that challenge her sense of reality and identity. Along the way, she discovers her true self and her creative potential. Lissa's Trip is a modern-day fairy tale that blends humor, adventure, and emotion in a dazzling cinematic journey.
Don't miss this fun and enriching film experience that has been praised by critics as "whimsical, provocative, imaginative, and uplifting".
Jeffery Lando's film is a visual psychedelic trip, like nothing we've ever shown before (Why do I keep hearing Grace Slick belt out WHITE RABBIT?).  His lead actress, Sofia Vassilieva as Lissa makes this trip so real, beautiful and frightening.
Director: Jeffery Lando is a filmmaker who creates award-winning genre thrillers and TV movies. He started his career as a cinematographer in NY in the 90s and later made his feature film debut with Savage Island (2004), a horror indie that won multiple awards at international festivals. He has also directed several TV movies for Syfy and Lifetime networks, such as Roboshark (2015) and Bad Stepmother (2018), as well as elevated-slasher indie Suspension (2017).
Special Guests: Jeffery Lando, Sofia Vassilieva, Camile Carida
DIRECTOR(S):
Jeffery Lando
SCREENWRITER(S):
Jeffery Lando, Sofia Vassilieva
PRODUCER(S):
Jeffery Lando
CAST:
Sofia Vassilieva, Tygh Runyan, Camile Carida, Alexandra Vino, Mandy May Cheatham, Brendan Beiser