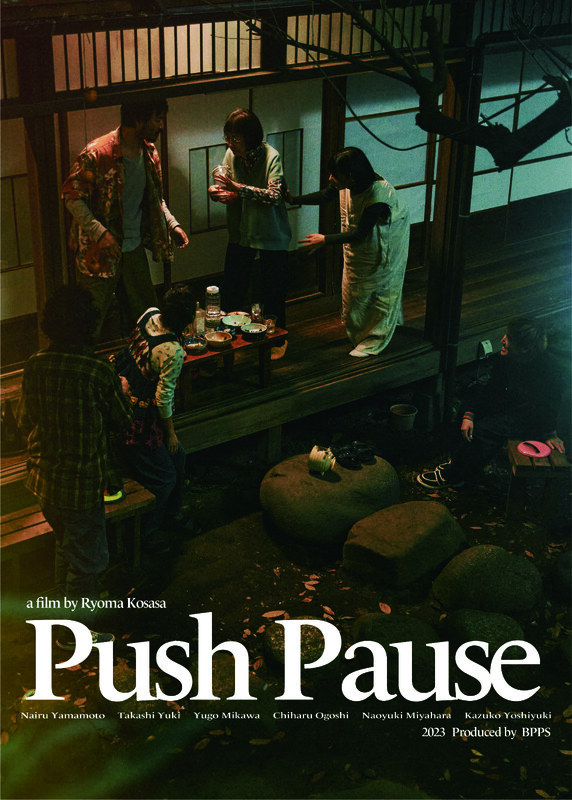 This movie takes place in Tokyo during the Olympics amid the COVID-19 pandemic. Tired of rushing through life, young people gather at a small guesthouse in Tokyo, where they explore their own paths and grow through new relationships and experiences. The youthful ensemble drama is centered around the theme of "break" and depicts the modest growth of young people.
A delightful film full of insight into Japanese culture.  Poignant, fun and enlightening with depth and introspection.
Director: Born in 1993 in Kanagawa prefecture, he began self-studying film production at the age of 18 and started making movies. He places emphasis on scriptwriting and character design, and is skilled at blending reality and fiction with his own unique balance in expression.
The following short will precede the feature.
TIDES
Directed by Ginny Jiang / U.S. Premiere
China / 2023 / 3 min / No Dialogue / Dance
TIDES is a dance film with female as the first point of view, folding the body in different spaces to express the phenomenon of women living under the scrutiny of self and others in society.
Camera: Wei Zheng, Wenxuan Shen / Editor: Shun Jiang, Ginny Jiang, Xinge Li / Cast: Ginny Jiang, Shun Jiang 
DIRECTOR(S):
Ryoma Kosasa
SCREENWRITER(S):
Rei Tsuruga
PRODUCER(S):
Izuho Kasai, Kengo Watanabe, Kimiko Kobayashi, Takuma Obara
CAST:
Nairu Yamamoto, Takashi Yuki, Yugo Mikawa, Chiharu Ogoshi, Naoyuki Miyahara, Kuu Izima, Yuto Nakayama, Kazuko Yoshiyuk