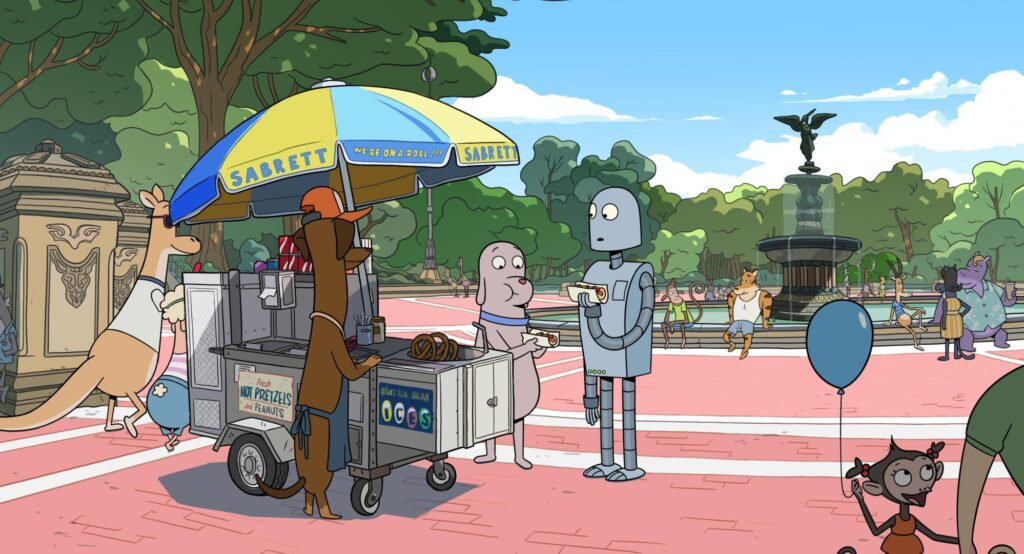 Last minute addition.  A huge hit at Cannes.  I have never seen an animated cartoon so clever, so funny and so moving.  
"A love story about friendship, ROBOT DREAMS is a moving animated drama which explores the bond that develops between a dog and his android companion — and what happens when that connection accidentally gets severed. Spanish writer-director Pablo Berger adapts Sara Varon's graphic novel, crafting a dialogue-free saga that speaks to our universal need to find like-minded souls, as well as our ability to carry on when life leaves us lonely. The film's visual design is relatively straightforward by modern animation standards, but that only allows the story's unfiltered emotions to spring forth even more powerfully.  This Cannes premiere could have global appeal, with viewers of any language able to access this wordless heartwarming tale. While perhaps a little too sophisticated for the very young, ROBOT DREAMS will be welcomed by family audiences tired of the adrenalized antics of typical Hollywood animated fare." – Screen Daily
"As one of the year's most unexpectedly moving films, ROBOT DREAMS has many surprises lurking beneath the surface – a sardonic sense of humor, absolutely stunning animation and a touch of the most profound humanity imaginable." – International Cinephile Society
ONE SCREENING ONLY!
DIRECTOR(S):
Pablo Berger
SCREENWRITER(S):
Pablo Berger
PRODUCER(S):
Ignasi Estapé, Sandra Tapia, Ibon Cormenzana, Pablo Berger, Angel Durández