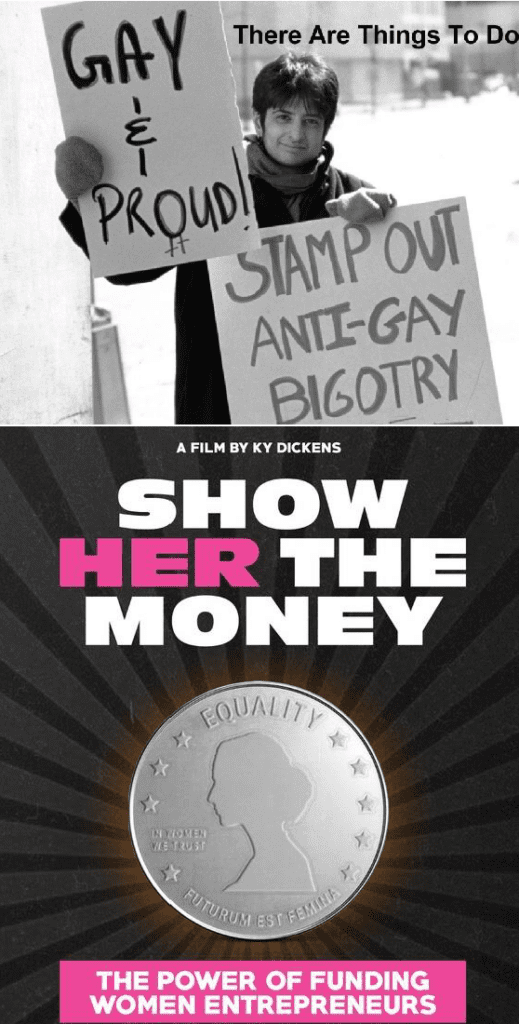 Featuring rock-star female investors who invest in diverse women entrepreneurs with innovations that will change the world, SHOW HER THE MONEY reminds us that money is power, and women need it to achieve true equality.
Director: Ky is best known for her documentaries that shift public policy and culture. She's been hailed a storyteller at the intersection of film and complex social issues – demonstrated by receiving the Focus Award for Achievement in Directing and the Ford Foundation's Change Maker Award for influencing social change through art and film.  Her 2019 film, THE CITY THAT SOLD AMERICA is about Chicago's crucial, yet often-overlooked, place in American consumer culture. The film is a sequel to Emmy-award winning Art & Copy. Her 2018 film ZERO WEEKS, about America's paid leave crisis, premiered the trailer at the White House Summit on the United State of Women, hosted by Oprah and Michelle Obama. ZERO WEEKS is being used by state legislatures, businesses and hospitals nationwide to move the needle towards a national paid leave policy. Ky's 2016 documentary hit SOLE SURVIVOR (CNN FILMS), profiled four survivors of otherwise fatal plane crashes. Her first feature doc, FISH OUT OF WATER, was inducted into the Library of Congress for its instrumental role in changing the national faith perspective on LGBTQ human rights. Her four docs have won more than 20 awards for best picture and audience choice.
Special Guests: Sharon Gless, Ky Dickens, Catherine Gray
The following short film precedes SHOW HER THE MONEY:
THERE ARE THINGS TO DO
Directed by Mike Syers / Florida Premiere
USA / 2023 / 18 min / English / Doc LGBTQ+
Urvashi Vaid, an outspoken immigrant, lesbian and woman of color was an LGBTQ+ superhero who helped shape the modern-day gay rights movement. Her vision for the movement serves as a roadmap of initiatives & tools for generations of activists as they face anti-LGBTQ+ backlash. The film features Urvashi's life in Provincetown, MA and 34-year relationship with partner Kate Clinton, and inspires us that the best place to build community & work towards equality starts at home. Urvashi reminds us there are things to do & we all have a role, no matter where we live. 
Producer: Fermin Roj́as / Cinematographer: Fermin Roj́as, Mike Syers, Ernest Martin / Editor: Mike Syers, Jay Kubesch / Color & Sound: Jay Kubesch / Cast: Urvashi Vaid, Kate Clinton, Richard Burns, Taryn Miller-Stephens, Jay Critchley, Terrence Meck
PRODUCER(S):
Catherine Gray, Ky Dickens
CAST:
Pocket Sun, Dawn Lafreeda, Diipa Büller-Khosla, Jasmine Jones, Marian Leitner-Waldman, Sharon Gless, Vicky Pasche, Catherine Gray, Wendy Ryan