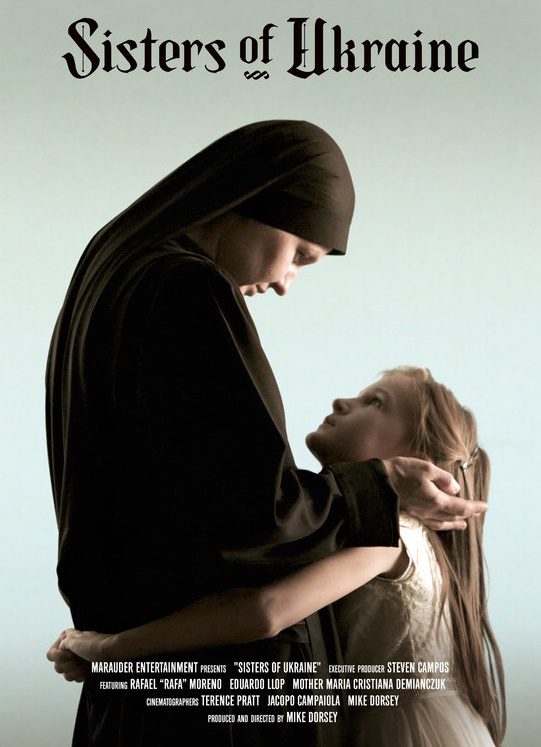 Two volunteers from Barcelona travel to a convent in western Ukraine where nuns are aiding refugees following the Russian invasion. As the missile attacks on all of Ukraine surge to unprecedented levels following the bombing of the Kerch Bridge in Crimea, the nuns and volunteers take a group of three-dozen refugees and families of soldiers fighting in the war on a three-day journey across Europe to housing near Barcelona.
Cinematography by two-time Emmy Winner Terry Pratt (LIFE BELOW ZERO) and Emmy winner Jacopo Campaiola (THE TRADE).
Director: Mike Dorsey is a filmmaker based in Los Angeles. His docs include the WWII film "Lost Airmen of Buchenwald"; "The Oyler House: Richard Neutra's Desert Retreat" about mid-century modern design; and the true crime documentaries "Murder Rap: Inside the Biggie and Tupac Murders" and "The Six Degrees of Helter Skelter." "Murder Rap" was adapted into the 2018 scripted series "Unsolved" for NBCUniversal, starring Josh Duhamel, which Mike also co-produced.
As a television producer, he was the co-executive producer/showrunner and editor for 2022's hit series "Ghost Adventures: House Calls" on Discovery+. Prior to that series, he produced and edited the paranormal documentary classic "Demon House" for Ghost Adventures' Zak Bagans. From 2020-21, he was a producer for the automotive-themed crime and mystery series "Auto/Biography" on Discovery's MotorTrend network. He has 18 other television producing credits in a career that spans nearly two decades.
In his spare time, Mike produces and co-hosts the popular "Dearly Departed Podcast" on Hollywood history with historian Scott Michaels. He holds a business degree in Marketing from Arizona State University.
SCREENWRITER(S):
Pablo Casalis & Tizano Gaia
CAST:
Joe Bastianich, Oscar Farinetti, Carlo Petrini