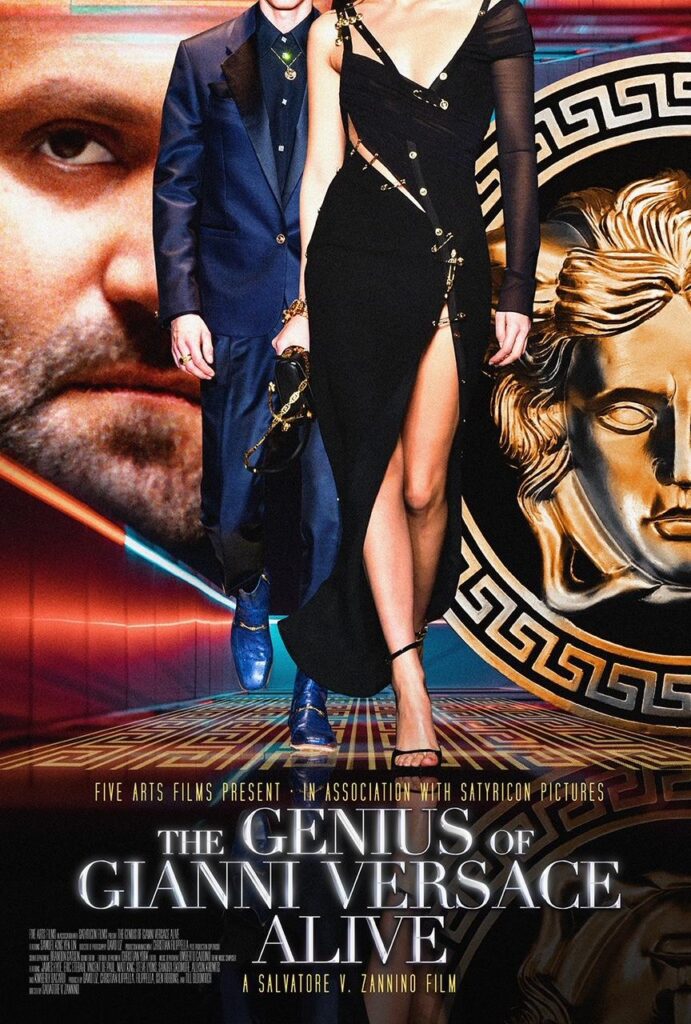 THE GENIUS OF GIANNI VERSACE
A FREE reception follows the screening on Saturday, November 5 at Savor Cinema.
Filmed partially in Gianni Versace's "Casa Casuarina" mansion in Miami Beach where every object is a separate work of art, the documentary brings the genius of the Italian fashion giant to life. The film has unique archival material and rare interviews of friends, former colleagues, and models: James Hyde, Steve Lyons, Matt King, Eric Etabari, Vincent De Paul, Kimberly Bacardi, Allyson Krowitz and Sandra Skidmore.   A vivid portrait of a Renaissance designer emerges, a man who never stopped being inspired by his time to create a strictly personal universe of high aesthetics.  The film explains Versace was not only one of the greatest and most influential contemporary designers, but walking on the sharp intersection between classic and modern, he redefined the way we perceive fashion, film and clothing.
Director: Two-time Emmy award winner Salvatore "Vincent De Paul" Zannino is a director, producer, and actor.  De Paul- Zannino's prolific career spans three decades starting with his first feature film "HAIRSPRAY" directed by John Waters. He has appeared on the hit TV shows BLACKLIST , MADAME SECRETARY ,The Encounter, and has recurred on THE BAY series for 9 years.  Recently he has starred in THE WELDER, LOVE ON THE ROCK, Secret Society 1 & 2. Most recently he has appeared in IFC's Sundance film winner TESLA with ETHAN HAWKE.    He is the founder of Five Arts and supports emerging filmmakers and artist.
Special Guests: Salvatore Z. Zannino, Sam Kite, Kevin Chamberlain, Adam Rose, Gabriel Salazar
The following short film will precede the feature:
REMEMBER IT'S CHRISTMAS
Directed by Sam Kite 
USA / 2023 / 21 min / English / Bittersweet Comedy
Between a lifelong career of playing Santa at private parties, and working a second job as a caretaker for a forgetful sundowner, a working-class actor decides to hang up his red suit and make this his final holiday season. On his last day before retirement, a sweet non-binary kid reminds him of the spirit of the holiday.
Writer: Sam Kite / Producers: Sam Kite, Joel Sniderman / Cast: Tim Hooper, Adam Rose, Garrett Claton, Kevin Chamberlain, Sujata Day, Latrice Royale
DIRECTOR(S):
Salvatore Z. Zannino
SCREENWRITER(S):
Salvatore Zannino
PRODUCER(S):
Christian Filippella, Vincent De Paul
CAST:
ames Hyde, Steve Lyons, Matt King, Eric Etabari, Vincent De Paul, Kimberly Bacardi, Aaron Lee, Charlie Rose, Allyson Krowitz And Sandra Skidmore