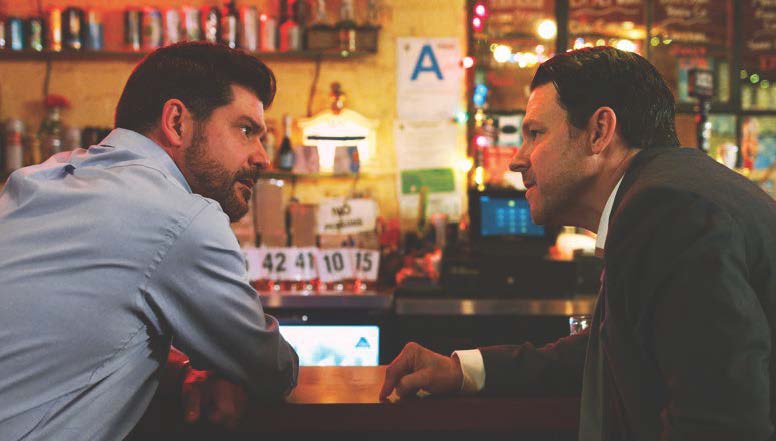 A reception precedes the film, Saturday, November 4th at Cinema Paradiso. FREE with ticket.
Nelson Shell feels trapped by life's monotony. A mid-level office worker mindlessly shuffling numbers for a faceless corporation, Shell finds all of his time taken up by work, commuting and the banal obligations of everyday existence. With a pregnant wife and on the cusp of middle-age, Nelson's ambition to become a novelist – and any sense of himself – slips further and further away. 
Change finally comes when Shell is summoned to a meeting with a mysterious high-level executive known only as Mr. Hayden. 
Director: Paul previously wrote and directed the award-winning features FAVOR and CRUEL HEARTS as well as the acclaimed documentary about film festivals, OFFICIAL REJECTION. He also wrote and produced the indie thriller TEN 'TIL NOON and is co-president of production company Conspicuous Pictures. In high school, Paul won Denver's Gates Planetarium statewide science fiction contest where his short script, THE FINAL EXAM, was produced and played to the public for four weeks. Paul attended the University of Miami, majoring in both screenwriting and English, where each of two of the shorts he wrote and directed won best picture awards at the university's "Canes" film festival. He graduated Cum Laude. Paul has also worked as a film editor and written articles for several media outlets including MovieMaker, Film Threat, Hope For Film and SAG Indie. He recently relocated from Los Angeles to London with his wife and business partner, producer Leslie Wimmer Osborne, and their son.
Special Guest:  Paul Osbourne
Sponsored by:  Simon Malak
DIRECTOR(S):
Paul Osbourne
SCREENWRITER(S):
Paul Osborne
PRODUCER(S):
Melanie Starks, Leslie Wimmer Osborne
CAST:
John T. Woods, Dawn Brodey, Patrick Day, Blayne Weaver, Cameron Jebo, Meg Cionni, Eddie Jemison, Kayden Kross