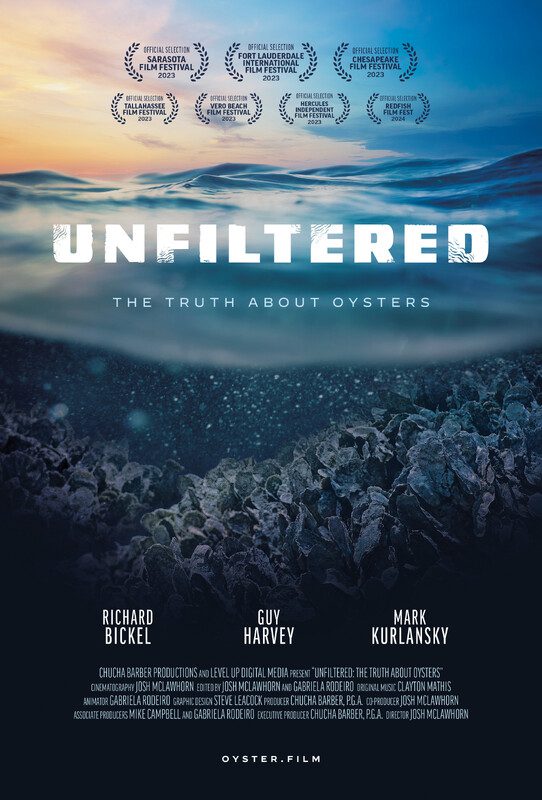 Ninety percent of the world's ancient oyster reefs have collapsed in the last thirty years. Faced with the human pressures of coastal development, pollution, reduced freshwater flow, and overharvesting, the renowned oyster reefs in Florida's Apalachicola Bay are now slipping toward the same fate.
Oysters have long been the silent protectors of the oceans, cleaning water and building the foundation of estuaries where thousands of species thrive, from plankton to game fish. They are living water filtration systems, storm barriers, and an ancient source of protein.
The fate of oysters in Apalachicola Bay is not sealed. Fresh water management, artificial reefs, shell recycling, and other restoration strategies may be able to save the world's oyster populations from complete collapse. It's not too late.
Director: Josh is the President of Level Up Digital Media.  He graduated from the University of Florida with a B.S. Degree in Biochemistry & Molecular Biology.  His work as a cinematographer, editor, and director has won eight Emmy awards from the National Academy of Television Arts & Sciences Suncoast Chapter. He is the 2014 winner of Nikon USA's short film competition. "My passion is telling stories with images and sound. Films have the power to catalyze tremendous change in individuals, groups of people, and in society.  Modern technology has not only changed how we make films, but also the way we view them. For me, it is a daily source of inspiration to work at the intersection of technology, physics, and storytelling."
Special Guests: Josh McLawhorn, Chucha Barber, Gabriela Rodeiro, Mike Campbell
DIRECTOR(S):
Joshua Bryan McLawhorn
SCREENWRITER(S):
Joshua McLawhorn, Chucha Barber
PRODUCER(S):
Chucha Barber, p.g.a
CAST:
Guy Harvey, Mark Kurlansky, Richard Bickel, Art Smith